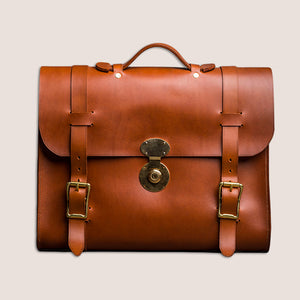 Men's Messenger Bag Vintage 1926
Sale price Price €500,00 Regular price
Men's leather messenger bag made using only handmade techniques, which attracts the eyes and gives the owner elegance and style.
The silky feel of the 100% vegetable-tanned  Bridle  Leather, the unmistakable patina, the unique limited edition copper accessories and the harmony of the handmade details to the last stitch make this bag really special.
As with all our products, we have never compromised on our philosophy: the men's bag is inspired by a combination of traditional leather techniques and modern design.
For hand sewing we use the world's premier threads, the Super Fine natural waxed linen threads  gives the stitches extra durability, while the special edge dyes guarantees the durability of the edges.
The messenger bag comes with an elegant box with our company logo.
- messenger bag made of vegetable-tanned  Bridle Leather
- 100% handmade
- smooth edges
- unmistakable patina 
- limited copper accessories
- handstitched
- large internal pockets
Dimensions: 38 cm x 30 cm, width: 8 cm
This product is made to order only. Contact us at info@varjuco.com for more information. We are happy to assist you.