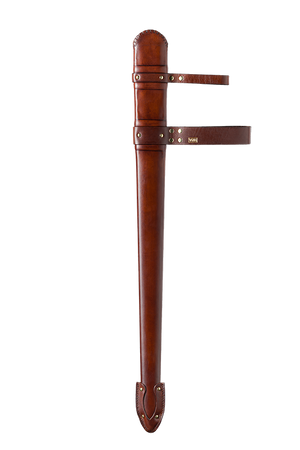 Standard Scabbard/Sheath
Sale price Price €162,00 Regular price
Our standard sword scabbard models feature high-end, hand-picked vegetable tanned leather, limited-edition metal accessories, and an interior wooden frame made from the highest quality materials.
Handmade standard scabbard comes with a loop suspension, which is compatible with all belts, but can also be ordered with a leather belt of the same color and type we use to coat the wooden frame.
The durability of hand stitches is guaranteed by the world's leading French  Lin Cable thread, while hand dyeing and special after-treatment guarantee silky light and exceptional durability.
In addition to the five basic colors and their combinations (black,  brown, blue, green, red), the sword can be purchased in additional shades.
Each fully handmade leather scabbard is made to the unique parameters of the customer's sword, which guarantees that our customer receives a completely original and unique product.
If you like the product, join our long line of customers who have used our products in more than 50 countries around the world. We will be happy to answer any questions you may have. Our email address is: info@varjuco.com