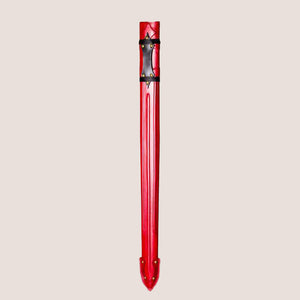 Migration Era Leather Scabbard with Embossed Details
Sale price Price €200,00 Regular price
Approximatelty 5th-8thC
Poplar cored scabbard, fabric lined and covered in veg tan leather. The scabbard can be fitted to a belt or a baldric through a strap bridge or belt slider that can be under or over the leather.
The scabbards are made of wood and are coated with genuine leather of 2 mm thickness which is glued to the wood and sawn at the back. These Scabbards come in standard sizes or can be custom made. The measurements of the sword are needed before order. I tried to produce authentic scabbards which is well presented by the accomplishment of strapping.
They come in three styles: standard scabbard, attachable scabbard and authentic. At the moment they can be ordered in the following colours: black,  brown, red, blue and green.