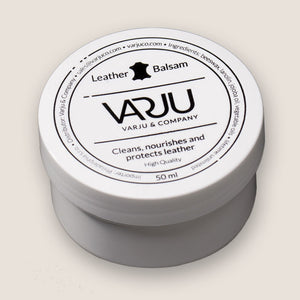 Leather balsam
Sale price Price €6,00 Regular price €6,00
We use high quality balsam for our leather products which restores the original softness of the leather in the most natural way and extends its life. 
This balsam is made in Germany by a company with great deal of experience. It contains natural oils, waxes such as Beeswax, Carnuba wax, Jojoba oil and Avocado oil. It is not sticky and has no odour.
All in all this balsam proofs to be a high quality product by professional and nonprofessionals alike all over the World.