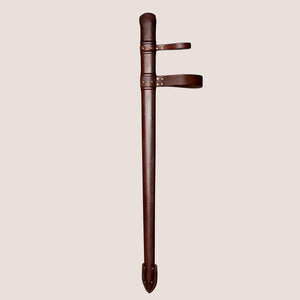 Standard Feder Scabbard Sheath
Sale price Price €162,00 Regular price
The popularity of Feder swords has increased dramatically in recent years and more and more customers have come to us looking for a unique scabbards and sheaths for their swords. As a result of this growing demand, our standard Feder model was born and is available in an authentic design as well.  
The scabbard features a hand-picked, high-quality and durable wood frame covered with 2 mm hand-painted high-end cowhide. We are proud of the fact that the entire manufacturing process in our workshop is done exclusively using manual techniques, including dyeing and sewing. 
Each Feder scabbard and sheath is manufactured to the customer's specific parameters to ensure that our customer receives a product that fits perfectly with their sword. 
The scabbard comes in five colors (black, brown, red, blue and green) and a combination of these, and more customizable with engraving on demand. 
If you have any questions, feel free to contact us at
i
nfo@varjuco.com
. We are happy to assist you.