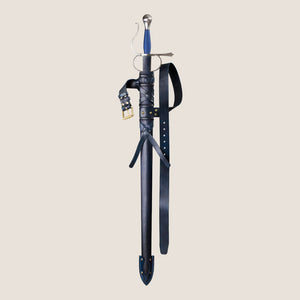 Sidesword Scabbard Sheath
Sale price Price €215,00 Regular price
We are pleased to introduce the high end model of our authentic sidesword leather scabbard. The combination of impressive design, practicality and the highest quality, carefully selected ingredients have resulted in our product shown below.
Vegetable tanned cowhide, hand dyeing and sewing with the world number one thread, high quality and durable wood frame, limited edition copper accessories and decades of experience in leatherwork, all of which make this product truly unique.
We are proud of the positive feedback from dozens of our satisfied customers, which testify to the fruits of the work and energy invested.
Uniqueness is an important consideration for us, as we have a long history of knowing that our customers prefer the products that best fit their style. That is why we offer the opportunity to make our swords even more unique by engraving, and of course we are open to any unique ideas (different color combinations, the style of the suspensio or the raw materials used).
If you are interested in our sidesword leather scabbard, please contact us at
i
nfo@varjuco.com
, we will be happy to assist you.