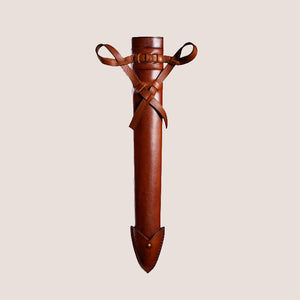 Leather Dagger Scabbard/Sheath
Sale price Price €100,00 Regular price
Our collection could not be complete without the scabbards made for daggers, which are manufactured with the same care and diligence and the same materials as our sword scabbards. 
In each case, a custom-made inner frame made of selected raw materials (measurements are always agreed with our customers) is coated with 2 millimeters of high-grade cowhide. The extremely durable copper accessories we use are made in a limited number in a workshop similar to ours. 
Like sword scabbards and sheaths, dagger scabbards are made exclusively by hand as well, including sewing and painting. In addition to the five basic colors (black, brown, blue, red, green), the product can be ordered in any combination of these. 
Unique ideas are not a
n obstacle, whether it be different suspensions, engraving or special colors. For individual orders, please contact us in advance at
i
nfo@varjuco.com
. We are happy to help you!
- hand-picked  materials
- interior wooden frame
- 2  millimeters thick vegetable tanned cowhide
- 100% handcrafted
- custom-made
- limited edition copper accessories
- hand sewing and painting
- unique color combinations
- to any dagger