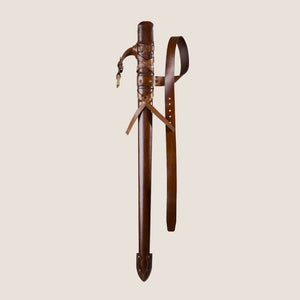 Authentic Feder Scabbard Sheath
Sale price Price €215,00 Regular price
The scabbards are made of wood and are coated with genuine leather of 2 mm thickness which is glued to the wood and sawn at the back. These Scabbards come in standard sizes or can be custom made. The measurements of the sword are needed before order. I tried to produce authentic scabbards which is well presented by the accomplishment of strapping They come in three styles: standard scabbard, attachable scabbard and authentic. At the moment they can be ordered in the following colours: black, brown, red, blue and green.
There is no compromise on the quality of the raw materials we use. These are always selected manually, paying attention to the smallest details. In our workshop we use only vegetable tanned cowhide and the copper accessories are custom made.
Customer satisfaction is our number one priority and of course we are open to customized solutions. If you would like a custom engraving, please contact us before ordering.
We are proud that hundreds of satisfied customers have honored us with their trust around the world. Our customers can rest assured that our handmade scabbards (including stitching and painting) are made with the utmost care and quality.