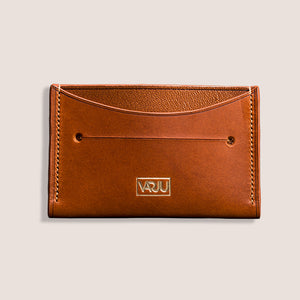 Leather Card Holder: Slim Card Wallet & Case
Sale price Price €50,00 Regular price
Handmade leather card holder, ideal for anyone who doesn't want to compromise on quality and elegance.
Our card holders are made of world-famous cowhide from Tuscany and French goatskin, the combination of which with gold-plated engraving brings true luxury into everyday life. We guarantee that you will be captivated every time by the unmistakable feel of these two high quality materials.
As with all our products, we use the world's leading thread, Lin Cable, for hand sewing, while the edges of the card holder are treated with special edge dye. Silky-coated paint retains its unique durability over the years.
This card holder has 5 slots for your cards, and holds up to 15 cards comfortably, and can handle a small stack of cash.
With its slim design, it fits comfortably in your pocket and fits perfectly into your hand. 
Dimensions: 12 cm x 8 cm